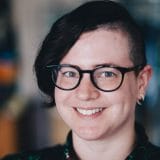 Jay Hicks is a designer, illustrator and musician from Massachusetts, USA. Prior to moving to Japan, they studied visual design with a specialty in digital media. A lifelong musician, Jay has been performing since a young age playing piano, ukulele, oboe, among other instruments. During university, they also performed in several opera workshops as a vocalist. After initially coming to Japan as an English teacher, they now work as a freelance designer and musician in Tokyo.
In addition to being an
Antigone
ensemble member (playing Jocasta), Jay also did print design, costume design and construction for the show.
マサチューセッツ州出身。デザイナー、イラストレーター、そしてミュージシャンとして活躍している。来日する前は、デジタルメディア・ビジュアルデザインを専攻していた。音楽が好きで、幼い頃からピアノ、ウクレレ、オーボエ、などの多々の楽器を学び、大学ではオペラのワークショップなどでボーカリストとして出演していた。現在日本では、英語教師、またフリーランスのデザイナー、ミュージシャンとして活動をしている。